iHORN Pro Series, Security New Era
2020.09.09
On 9th September, with the theme of "Ingenious Sensing, Security New Era", iHORN Pro Series launch was held in Grand Skylight Garden Hotel ShenZhen.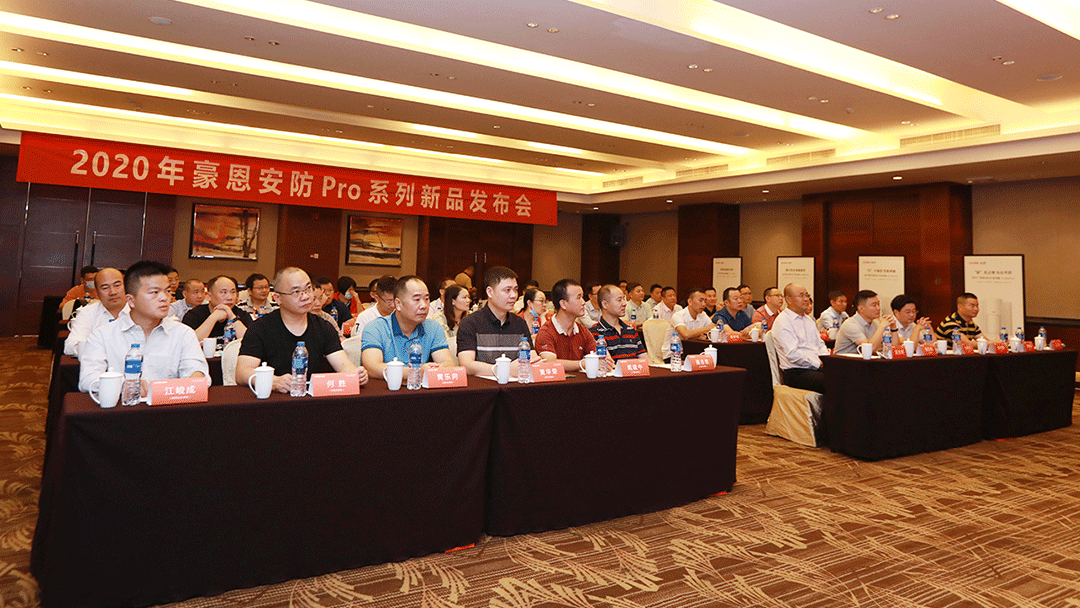 Site of iHORN Pro series launch event.
The new product launch event grandly introduced five new Pro series products, including Home Combustible Gas Detectors, PIR Motion Detector series, Panic Buttons and other security alarm products, with comprehensive updates and iterations in software algorithms, core components, internal structure, exterior design, mounting methods and other performance aspects.
iHORN Security Pro Series
Hardcore New Performance, Bringing Safety to a Higher Level
High performance is the guarantee of high quality in security alarm industry. After over 10 times of optimization on blueprinting, more than 500 times of field data sampling and analysis, hundreds of times of data modelling and verification, engineers of iHORN have developed sophisticated algorithms and data processing mechanisms to significantly improve the performance of the new Pro Series.
Home Combustible Gas Detector JT-LH-86 Pro
JT-LH-86 Pro, the pioneering product for fire protection new national standard, is a home combustible gas detector that complies with GB 15322.2-2019 fire protection certification. With six pioneering designs such as "black box" function, dual-tech double calibration, unique airflow window, precise software compensation algorithm, sensor fail-safe, IP 30 protection level, etc., to accurately monitor gas leakage, household gas safety is protected in real time.
High-stability PIR Motion Detector Pro is equipped with a new generation of Fresnel lens, which features one-step detection technology, white light resistance, environmental self-adaptive capabilities and unique concealment functions to accurately identify human movement and effectively avoid false alarms.
New Appearance, Easier to Blend in Household Environment
In order to get rid of the industrial appearance of regular security alarm products and to better match the modern home decoration style, the Pro series has been uniquely upgraded in terms of appearance, which features in simplicity.
Panic Button HO-01B Pro
The Pro version of the panic button is available in three classic colors with a simple and elegant integrated panel design and a well-chosen SOS red button, which is larger, more visualized and easier to trigger, transmitting alarms at just one touch of the button. The Pro version PIR motion detectors are all designed in a sophisticated and sporty compact form, free from industrial shapes, to become a model of intellectual beauty for every home, highlighting the taste of the users.
"Efficiency Driven"Mounting Experience, Reflecting Professionalism
Except for the hardcore performance and good-looking appearance, the Pro series offers more efficient mounting experience. Professionalism is reflected in every way.
Indoor Curtain PIR Motion Detector LH-912D Pro
The Pro version of the home combustible gas detector adopts a rail design, which makes installation quick and easy. The ingenuity of the product is reflected, with just a "push" and "turn"; the Pro version of the PIR motion detector series adopts a free of opening shell plug-in and a new 86-box bracket design, which hides the external wiring and allows free adjustment of the detection angle of 90° up and down, 160° left and right. The Pro version of the panic button is designed with a diamond-shaped rear shell, with high compressive strength, which makes the installation safe from deformation.
iHORN General Manager Mr. Wu Zhiming
At the launch event, Mr. Wu Zhiming, General Manager of iHORN Security, said: "Unique with ingenuity"is the quintessential summary of the new Pro series. Better performance, simpler appearance and more efficient installation are our new pursuit for this series of new products. The launch of the Pro Series is the result of the innovative technology and hard work of generations of "iHORNers", and is highly in line with our belief in making products: to be the best! With more than 30 sales and service offices across the country, we have always adhered to the service concept of "Do it with heart and soul, and let the customer be touched" to provide the highest quality products and services to our customers, striving hard and innovating continuously! "